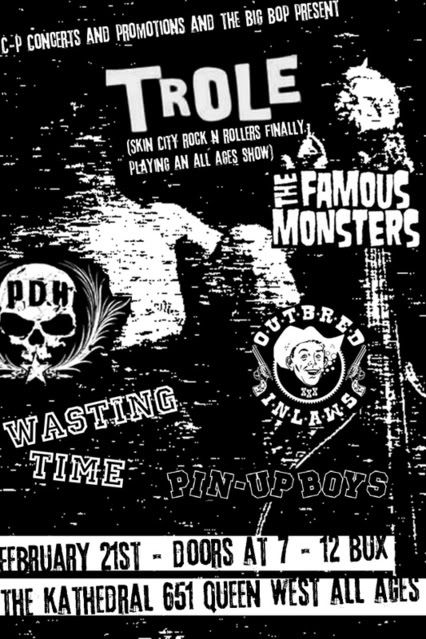 Advance Tickets ($10) at the Big Bop or contact myspace.com/cpmusicbooking




BIO:

The FAMOUS MONSTERS are a hard hitting 4- piece monster rock n' roll band from downtown Toronto. The band formed in November of 2004 as a 3-piece with Nick Gorgeous on guitar and vocals and Aaron on drums. As the band grew, and went through a few bass players, this role has been filled by the one and only Madd Vlad. Along the way they developed their sound, eventually picking up Dave Fulton on lead guitar to complete the band. The guys put on an explosive stage show that you just have to see to believe. They are proud to have shared the stage with such legends as The Misfits as well as countless other great bands including The Creepshow, The Matadors, Keepin'6, The Brains, The Heatskores, Test Monkey, The Black Donnellys, The 3tards and more... The band is continuing to gig steadily and is looking forward to bigger and better things in the near future...

***NEWS for fans and fiends alike****

KEEP YOUR EYES AND EARS PEELED!!! We just finished some brand new recordings. As soon as they have been mixed and mastered they will be posted up on myspace for your listening pleasure. Stay tuned for more from your favourite monsters.

CHEERS

Website:

www.myspace.com/thefamousmonsters

Booking:

thefamousmonsters@gmail.com

.